There's no denying that British summers are unpredictable, inconsistent and absolutely fantastic when the sun does decide to shine. But as much as we enjoy the warm weather, without the correct care, your garden may not. These summer gardening tips should help to keep your borders, lawns and hedges as happy as you in the sun.
1
If you notice your lawn beginning to look a little bit brown and bare, this could be due to the grass being cut too low. Often people think that mowing the lawn very short will reduce cutting frequency, however, it's better to mow as high as your mower allows as longer turf wears better, especially during the summer. Add fresh lawn trimmings to your compost heap – it will help to activate the compost.
2
Weeds will be in active growth during the summer so this is a good time to tackle them. You can get rid of troublesome weeds by digging them out but applying a weedkiller is likely to give better results and will save you a lot of effort, especially in large areas of the garden.
3
Once your shrubs and flowers have blossomed, you can deadhead the flowers to encourage a second bloom. This allows the plants to put their energy into new blossoms instead of producing seeds. For roses that only have one flush of flowers, leave these as they are to be rewarded with colourful rose hips later in the season which will provide a welcome source of food for birds.
5
When it comes to watering your plants during summer, always water in the cool of the day, whether this is early morning or late afternoon. Your plants will need time for the foliage to dry out before it gets dark to reduce the risk of mildew and fungi on the leaves – ideally the morning is better so your plants have the full day to dry out. Try to water directly to the roots as opposed to over the foliage and use recycled rainwater and grey water whenever you can.
6
Make sure there are no leaks or kinks in hoses and irrigation watering systems and check the nozzles for any blockages.
7
Applying a mulch can help the soil in your borders to retain moisture and help to stop weeds from popping up but you need to check that your mulch doesn't crust over during the hot weather, as this can prevent moisture from soaking into the soil and reaching the roots of your plants. If this does occur, use a rake to break the mulch up.
8
If your hanging baskets begin to look a bit worn out towards the end of summer, trim back the plants and apply a feed to encourage fresh new growth and give your baskets a new lease of life.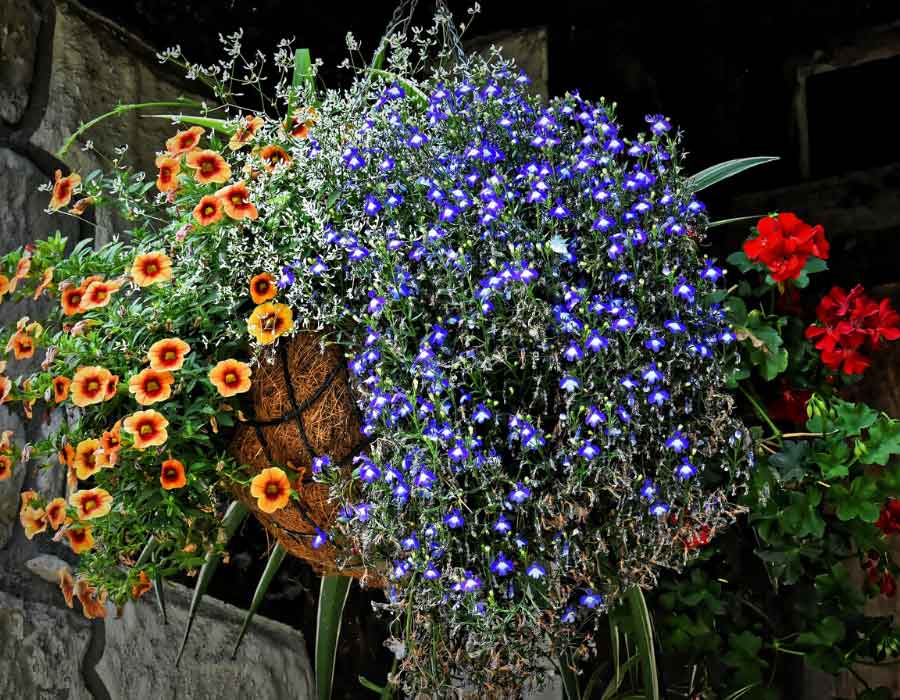 9
Your beds and borders will be bursting with colour by now but your plants will still benefit from a bit of extra encouragement in the form of a liquid feed. Applying to borders, containers and hanging baskets once a week during summer will give your plants a boost and you may even notice more flowers appearing.
10
And our most important summer gardening tip… Take time out to enjoy the sunshine and appreciate all your hard work.