Many people love their gardens and enjoy spending time in them. It might be the fresh air, or the smell of the flowers. It could be the feeling of achievement after having tidied, pruned and having made the outside space look beautiful. But did you know that gardening is actually good for your health,and could be the ideal way to improve your health overall? Here are some reasons why:
When you're out in the garden making things look lovely, your blood pressure will reduce. That's because you're not thinking of anything other than what is happening right now, and the sounds of nature such as birdsong and the wind rustling in the trees is soothing and calming. Your blood pressure will lower, and that also means that you are at less risk of a heart attack or a stroke.
This is true of everyone, but perhaps even more useful for those over 60, who are at increased risk of high blood pressure and the health issues that go with it. Even if you are older and feel that gardening might take its toll rather than be helpful with regards to your health, you can find ways that you can enjoy the outside world. There are numerous pieces of gardening equipment designed to make gardening accessible for everyone, for example, kneeling pads that can aid those with joint and mobility issues, self-propelled lawn mowers that are designed to help those with less strength or mobility,and telescopic shears to help remove those pesky weeds that grow in out of reach places to name but a few.
We all know that it is far easier to get fit and lose weight if we burn more calories than we consume. Gardening is a great way to burn calories, and it also means you have accomplished something when you are finished, which is not something that can be said for running, using an exercise bike, or attending a gym. Studies suggest that one hour of gardening can burn as much as 330 calories. Four hours in the garden is equal to one hour in the gym, but the former is usually more enjoyable than the latter!
We all spend so much time indoors that our immune systems can sometimes be compromised. That's because those immune systems need a good dose of vitamin D to keep them healthy, and vitamin D comes from the sun. Being outside,gardening, means that you can absorb vitaminD and keep your immune system doing what it is supposed to do.
Vitamin D also helps your body to absorb calcium, and this keeps your bones strong – another health benefit, and one that will increase the amount of gardening you are able to do.
Remember, though, that too much sun is bad for you, and can cause health issues such a cancer and sunstroke. Make sure you wear a hat and protective clothing, and ideally you should also wear sun cream as well. The vitamin D can still be absorbed, and it will keep you healthier in the long term.
Mental health is something that is just as important to look after as physical health is. Gardening can help with this. We've already mentioned how when you are gardening you can live in the moment and forget your troubles.This is known as mindfulness, and it means your stress levels reduce.
Chronic stress can cause all kinds of health problems including heart disease, high blood pressure, ulcers, and mental health issues such as depression and anxiety. Reducing that stress as often as possible by 'living in the moment' and practising mindfulness will help to stave off these nasty health issues that can become such a major problem in people's lives.
Gardening also allows you to feel a sense of self-worth. When you look around and see what you have achieved and how beautiful the garden looks thanks to your hard work, you will feel good about yourself, and this will give your mental health a boost as well. Your self-confidence in what you can achieve will rocket, and you will try new things and push yourself further because of it.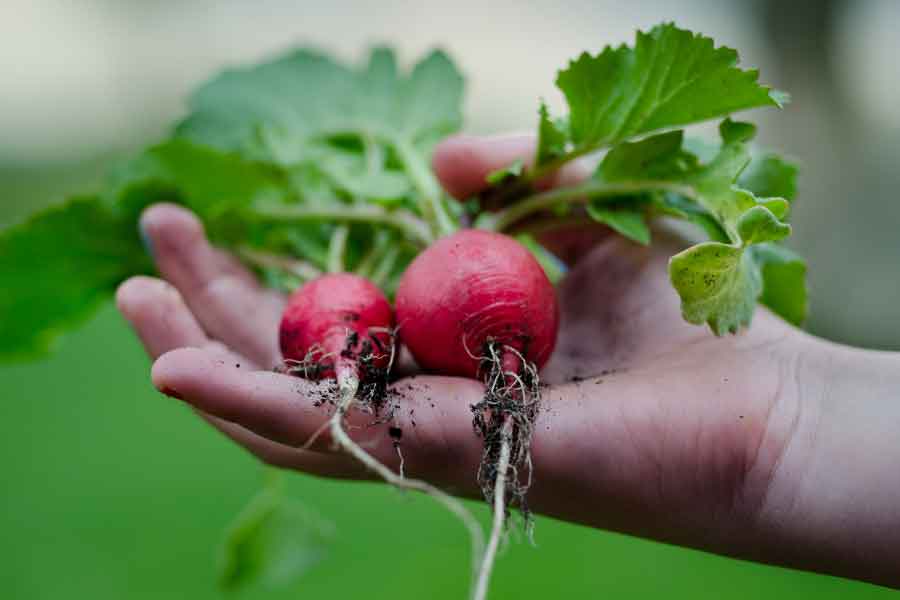 Although this point might not apply to everyone, for those who are growing fruit and vegetables in their garden, gardening means you will eat better and more healthily. When you have taken the time to grow crops, you are far more likely to eat them to save them going to waste. This is an easy way to get more fruit and vegetables into your diet.
It's also good for your family and friends too. Children, for example,are notoriously fussy when it comes to eating vegetables, but if those vegetables are grown in their own garden, perhaps if they even had a hand in planting them or harvesting them, they will be more interested and happier to have them on their plates.
This is a guest blog post written by Ella Hendrix. Ella Hendrix is a versatile freelance writer currently covering articles on house renovations, home ware trends and gardening for beginners.
Would you like to be featured on our blog? Email us at marketing@best4hedging.co.uk